A safe refuge for those ready to begin the process of rebuilding back their lives
A safe refuge for those ready to begin the process of rebuilding back their lives
The Women's Home

Due to the COVID-19 pandemic, the Women's Home will be operating at a smaller census to maintain COVID-19 health and safety protocols.

Click the link to watch the full Virtual Ribbon-Cutting Ceremony —> https://fb.watch/3o2ZxRWg48/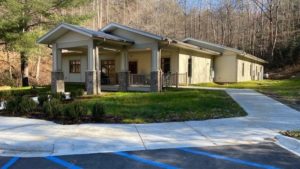 Just two years ago, we broke ground on what would be a vital piece of the recovery continuum of care that was purposefully designed for our community. Where once stood the old Cherokee Children's home is now a beautiful residential support home for women and their children.
This home, developed to help support the recovery of women struggling with mental health and addiction disorders, will provide a safe refuge for those ready to begin the process of rebuilding back their lives.

Our hope is that this home will be a place where individuals can enjoy support, compassion and gain the independence to live out their lives free from addiction, free from the stigma of mental illness and fulfill their purpose while mending the fractured relationships with themselves and with their families.
To determine eligibility for the home, you may seek walk-in services at
Analenisgi Outpatient: Monday thru Friday – 8:30am to 4pm

For more information or to engage in Analenisgi services please call (828) 497-916 ext. 7550.