Quality Care - in the comfort of your own home
Quality Care - in the comfort of your own home
To set up for Virtual Urgent Care services please call 828.497.3744
What is MEND?
MEND is a virtual way for you to get care through CIHA.
What is a Virtual Visit?
A virtual care visit allows you to speak with a provider using video chat. There may be times when the provider asks you to come to the hospital for labs, x-rays, or to pick up medicine. Occasionally, an in-person exam will be recommended.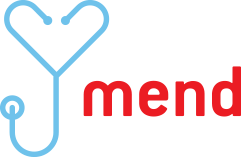 Who is Eligible for a Visit?
CIHA patients must be 2 years or older in order to receive virtual care.
All patients who are 17 and under must be accompanied by a parent or guardian during the visit
For information about COVID-19 testing, please call our COVID-19 Hotline: 828.497.3743 or click here to view the CIHA COVID Drive-Thru Testing schedule.
How does it work?
Step 1
Call today (828) 497-3744 to get registered in MEND by a member of our CIHA team. You can also download the MEND App available on the Apple AppStore or Google Play Store.
Step 2
MEND is available on computers, tablets and smartphones. You will be emailed a link in order to create your account.
Step 3
Once your account is created you can schedule an appointment a time that's best for you!
Step 4
Connect with a Provider