Purchased and Referred Care: An Important Aspect of Your Good Health
Purchased and Referred Care: An Important Aspect of Your Good Health
PRC & Billing
Hours of Operation: Monday-Friday: 8am-4:30pm
For more information or billing questions, call 828.497.9163 ext. 6214
---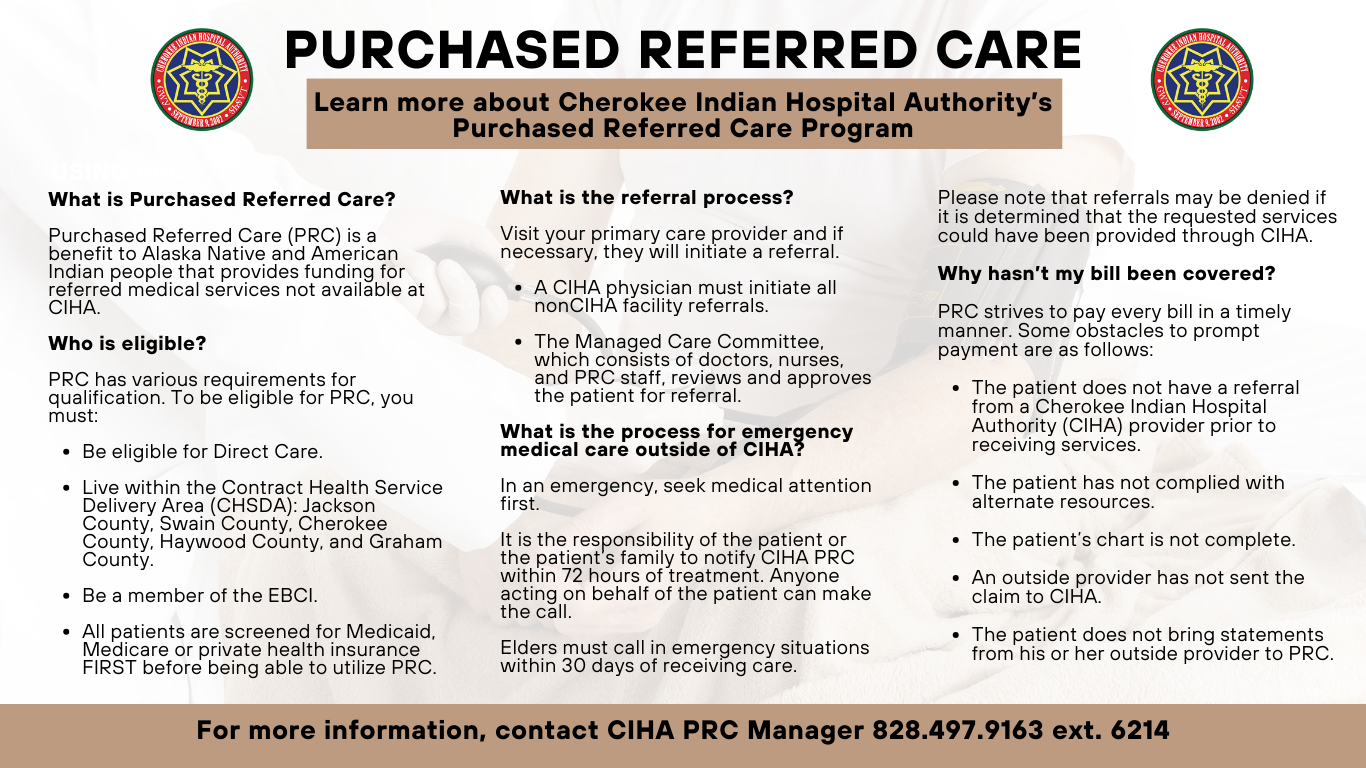 Care outside the Cherokee Indian Hospital Authority is called Purchased and Referred Care. PRC has various requirements for qualification. To be eligible for PRC, you must: be eligible for direct care, be a member of the Eastern Band of Cherokee Indians (EBCI) or live within the Contract Health Service Delivery Area (CHSDA).
If you are not a member of the EBCI, then you must be a member of a federally recognized tribe and live on an Indian (reservation) land OR live within the CHSDA and maintain close economic and/or social ties to the EBCI.
The basis for determining a person's close economic and social ties is established by the Tribe and may include considerations such as: whether the person is employed by the EBCI, or if the person is married to, or is the child of, an eligible member of the EBCI.
---
I got a bill in the mail even though CIHA referred me to an outside provider, what do I do?
Most often, issues over billing can be resolved with a simple phone call to the service provider listed on the bill and letting them know that CIHA is the last payer of choice.
Send the bill to CIHA at:
PRC
1 Hospital Rd.
Cherokee, NC 28719

---
Why hasn't my bill been paid yet?
The PRC department strives to pay every bill in a timely manner. However, there are obstacles that can occur that will delay payment which include:
The patient did not have a referral from a Cherokee Indian Hospital Authority (CIHA) provider prior to receiving services.
The patient has not complied with alternate resources.
The patient's chart is not complete.
An outside provider has not sent the claim to CIHA.
The patient did not bring statements from his or her outside provider to PRC.
---
How do I get a referral?
Referrals can be processed in several ways.
A CIHA Primary Care or Emergency Room Provider issues the referral.
The Managed Care Committee, which consists of doctors, nurses, and PRC staff review the referral and approves it.

Please note that referrals may be denied if it is determined that the requested services could have been provided through CIHA.
---
I am out of town and had an emergency situation. What do I do about my ER bill?
In the event of an emergency situation, the patient must call his or her primary care team within 72 hours of receiving care.
Elders must call in emergency situations within 30 days of receiving care.
---
Hospital Charge Master
Cherokee Indian Hospital is committed to providing meaningful information about our healthcare services, and believes you have the right to understand your healthcare options and the cost of care you receive. We know that understanding billing, insurance and medical records may seem overwhelming at times.
Estimates provided are based on average payments and payment ranges for a particular service. The actual out-of-pocket cost will be based on the services actually provided to the patient, and any applicable insurance benefits or self-pay discounted rates.
To obtain details around pricing of services, you can download our Hospital Chargemaster here.